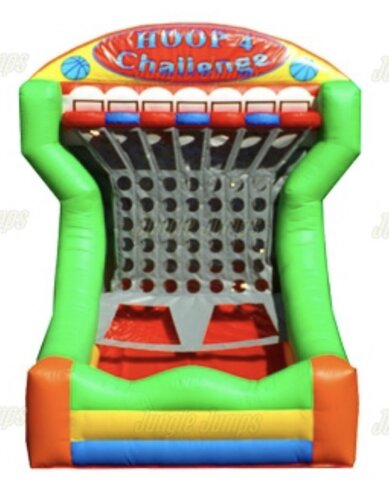 Wacky, connect four
Actual Size: 10' x 14' tall





$349.00

Please call to reserve this item.

Bring on the competition with our new Wacky Connect 4 Basketball game! The rules are simple: Two players (or teams) take turns shooting their color's basketballs into the hoops. The first to connect four (or three!) of their pieces in a row is the winner! Your guests will have a blast balancing between shooting hoops and planning their next move in this amazing game of skill and strategy.
Fun for all ages!
Challenge opponents in this larger than life Basketball version of the classic Connect Four game! Up to 6 players at a time. The bright and colorful Giant Connect 4 inflatable carnival game is perfect for any type of event. This Giant Inflatable Connect 4 game will keep your guests happily entertained!